£4,333.02 raised for Charity since March 2020
£628.48 raised for our July 2020 Online Dance Competition
£677.68 raised for our August 2020 Online Dance Competition
£585.61 raised for our September 2020 Online Dance Competition
£200.00 raised for our November 2020 Online Dance Competition
£150.00 raised for our December 2020 Online Dance Competition
£250 raised for our February 2021 Online Dance Competition
£150 raised for our March 2021 Online Dance Competition
£125 raised for our April 2021 Online Dance Competition
£125 raised for our May 2021 Online Dance Competition
£150 raised for our June 2021 Online Dance Competition
£125 raised for our July 2021 Online Dance Competition
£150 raised for our August 2021 Online Dance Competition
£117 raised for our October 2021 LIVE Dance Competition
£72.16 raised for our January 2022 Online Dance Competition
£293 raised for our January 2022 LIVE Dance Competition
£52.18 raised for our April 2022 Online Dance Competition
Our Online Achievements 2020-2021
2,784 Med️als & Trophies posted out (not including the Participation Medals or any replacements I've also sent out)
58
 Cash Prizes issued, amounting to £1,020
£4,333.02 raised for Charity since this group was created in March 2020
️
A £250 Scholarship awarded for the This Is Dance Contemporary Associate Programme
️
24
 Online Dance Competitions hosted
26
 Mini Challenges hosted (Tik Tok, Colouring Challenges, Tap Challenge & Grown Up Challenge)
Ballroom Workshops with Shirley Ballas
Tap Workshops with Adam Garcia
I hosted an online Halloween Party with professional entertainment
Charleston & Jive Workshops with Joanne Clifton
Tina the Christmas Elf came to visit us during December
Two incredible Christmas Parties hosted with a professional entertainer as a thank you for all my attendees and supporters last year!
I re launched my T-Shirt range and branched out in to Sweatshirts, Onesies, Mugs, Tote Bags, Face Masks and lots of other little goodies!
️
T-Shirts, Sweatshirts and Onesies have been sent out as prizes!
I became a #1 Bestselling Author back in May 2020 and created 7 other #1 Bestselling Authors.
️
I was a finalist in 3 categories for the Women's Business Conference Awards with my other half winning Runner Up in the Man of the Year category.
I hosted an Online Masterclass to help dance business owners with those fundamental tools needed to run a business and had 86 sign ups for my first ever Masterclass which resulted in incredible results!
I hosted a Strictly Dance Challenge in January 2020 with Katya Jones as my judge
JIVE Workshop with Giovanni Pernice
Two more Tap Workshops with Adam Garcia
Two
Lyrical Workshops with Gianna Martello from Dance Moms
FREE Trolls Workshop as a thank you!
CATS Workshop with the wonderful Daniel Cox
Three SOLD OUT Workshops with the incredible Abby Lee Miller from Dance Moms
Wicked Workshop with West End legend Tom Andrew Hargreaves
Finalist in 7 more Business Award categories for 2021
Two
FREE Online Dance Championships event hosted with CASH Prizes, Trophies, Medals and other goodies awarded as a thank you
️ 42 Most Promising Dancer discount codes and freebies awarded since January 2021
34
 Most Promising Dancer Rosettes and Gift Boxes sent out
9 Brand Ambassadors taken on to help promote my brand
Dance Associate SPONSORED Places awarded
Our second book is now in the making with an incredible 15 Authors
I am now officially a Franchisor and my first franchisee hosted their first event in November 2021.
I've taken on five employees under the Kickstart Scheme and have an incredible VA and Franchise Support Manager.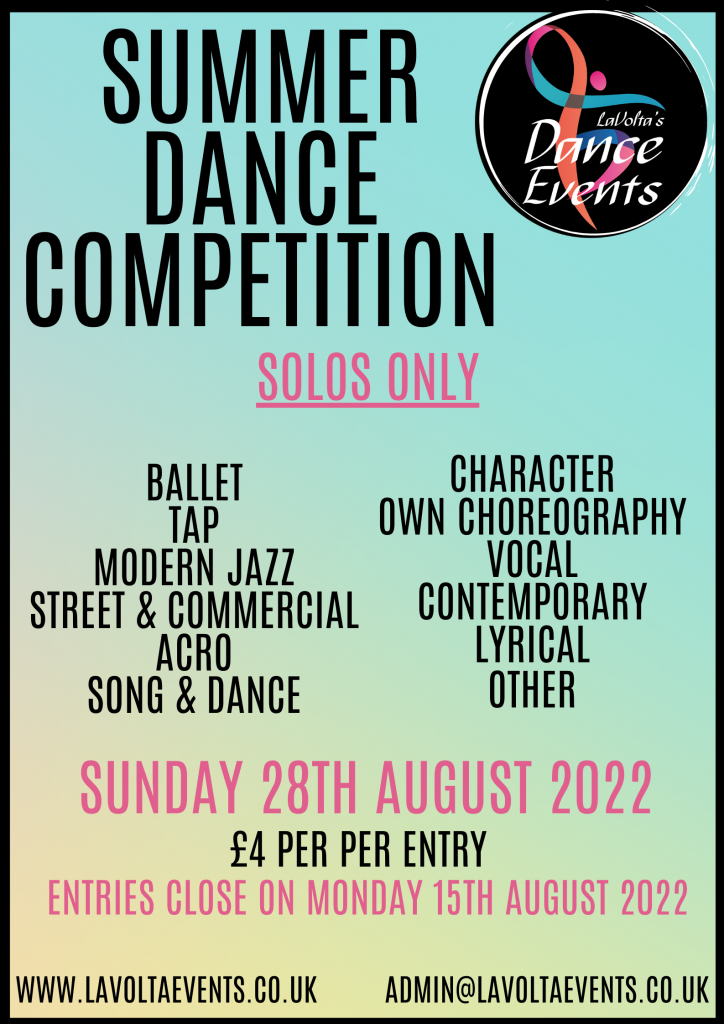 Age Categories are as follows; 
Baby (3-5 years),  Junior (6-9 years),  Inter (10-13 years),  Senior (14-18 years) and Adults (19+ years).
Places for 1st-3rd are awarded and those who don't place will receive a Participation Medal.
Entries are by Video Submission only and must be no longer than 2.5 minutes long.
You can enter using the 'Enter Here' button below..
Please only upload your video(s) if you have ENTERED and PAID for your entry/entries.. no other videos will be accepted.
Any issues uploading your videos, please send them clearly labelled with Name and Section via WeTransfer to video@lavoltaevents.co.uk